Audiovisual Performances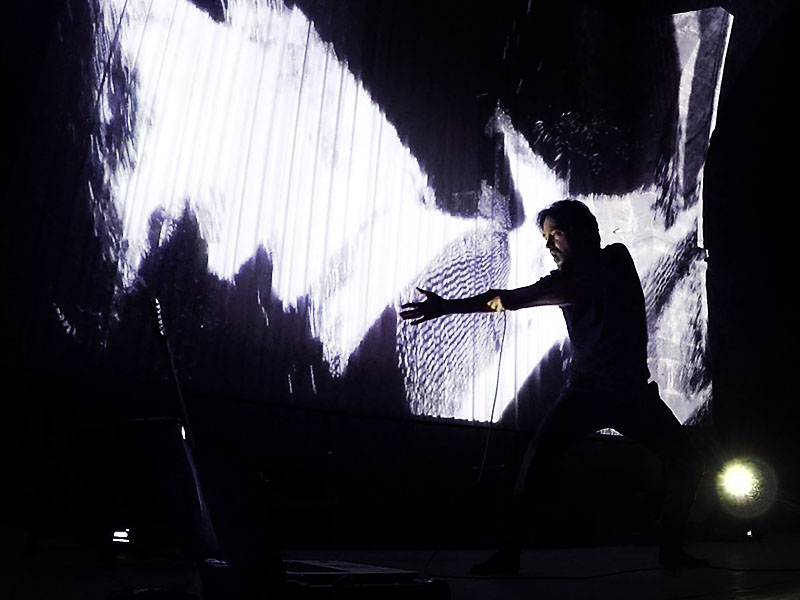 Solar Flares, Deep End Film Festival, Nijmegen, Sept 2019.
Solar Flares, Un/Green Festival, Riga, Jul 2019.
Minotaures, Octobre Numérique, château de Tarascon, Oct 2018.
Minotaures, Musique en balade, marais du Vigueirat, Sept 2018.
Electronic Clouds, LPM Live Performers Meeting, Rome, Jun 2018.
Minotaures, Nuit européenne des musées, théâtre d'Arles, May 2018.
Bleu électrique, festival Horizons Numériques, Abbaye de l'Escaladieu, Sept 2017.
Minotaures, festival Les Suds, ENSP Arles, Jul 2017.
As a visual artist, I often work with musicians and dancers on live performances using custom written software. I use programming to create dynamic images that respond to live music and gestures.
I use motion-sensing input devices like Kinect to retrieve depth maps and point clouds I animate using multi-agent systems and force fields.
I'm interested in the movements that can be captured using processes as motion-capture and technologies as infrared cameras. In my work, movement is an expression of a state of mind. I define it and give it to digital entities in order to create complex dynamics that are built on their interactions. These interactions are able to give life to a whole picture that appears breathing on its own while interacting with performers.
More information: Florent Di Bartolo. Performative Meshes: Musical Expression in Visuals. ARTECH 2019, Oct 2019, Braga, Portugal. pp.309-315.